Looking to plan your next canoe camping adventure? There are several great resources for data in the Boundary Waters Canoe Area Wilderness and surrounding paddling areas. We took a look at the data that is available and compiled a single .kml file that includes access points, campsites, portages, and the wilderness boundary. This data can be viewed using Google Earth, and compliments perfectly the many well researched guidebooks and maps of the canoe routes in this expansive area.  We also created a couple of interfaces so you can view the data online – see it using Google Maps or overlayed on 1:24,000 series topographic maps.
Download: bwca_all_kml.kmz (400 kb)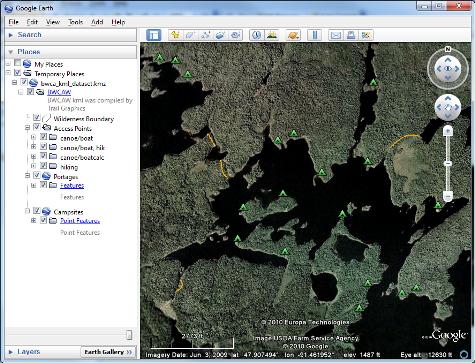 Entry points, portages, and wilderness boundary data from Friends of the Boundary Waters, et al.; campsite locations from data by Peter Berbee.